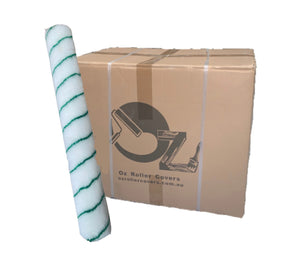 oz roller covers
460mm Roller Covers
To view pricing, change the QTY in the drop down.
We guarantee the highest quality with our 460mm Roller Covers.
Used by many large flooring companies around Australia - our Price and Quality cannot be beaten.
10mm nap.
Custom dark Green Oz roller Stripe 
Our 460mm Roller Covers will not shed fluff and hair or leave roller lines.
This roller cover is aimed specifically at the Epoxy flooring market.
Disposable.
We offer Free Shipping on our products – Australia Wide
Roller material is Woven Polyester
This item also suits our 460mm Roller Cradle.
---
More from this collection